Liebe 40k-Community,
unser Lord General of Warhammer 40k II Turnier fand am 7.8. statt und wir möchten es gerne noch einmal Revue passieren lassen.
Insgesamt 24 Spieler fanden sich am Samstag zum Turnier im Games Island ein. Neben vielen bekannten Gesichtern waren auch einige Spieler dabei, für die es das erste Turnier war. Die Teilnehmer kamen nicht nur aus dem Umland: mit 293km nahm Medjugorje aus München den weitesten Weg auf sich.
Das Wetter konnte die Teilnehmer glücklicherweise nicht abschrecken – zum Ende des Turniers gab es so starken Regen, dass wir sogar unsere Terassenmöbel hereinholen mussten und man sich kaum mehr vor die Tür wagen konnte.
Ohne weitere Umschweife möchten wir euch die Platzierungen vorstellen:
v
Der Gewinner des Turniers war limatey von Kings of the Hill mit seiner Adepta Sororitas-Armee. Herzlichen Glückwunsch nochmal an dieser Stelle!
Platz 2 errang DirtyDee mit Death Guard.
Ebenfalls mit Adepta Sororitas holte Flair4live den 3. Platz.
Die best-painted-Preise für das schönste Modell und für die schönste Armee holte Soo_Fly. Seine superschicke Craftworlds-Armee mit tollen Freehands und weitere Modelle könnt ihr euch auf seinem Instagram anschauen.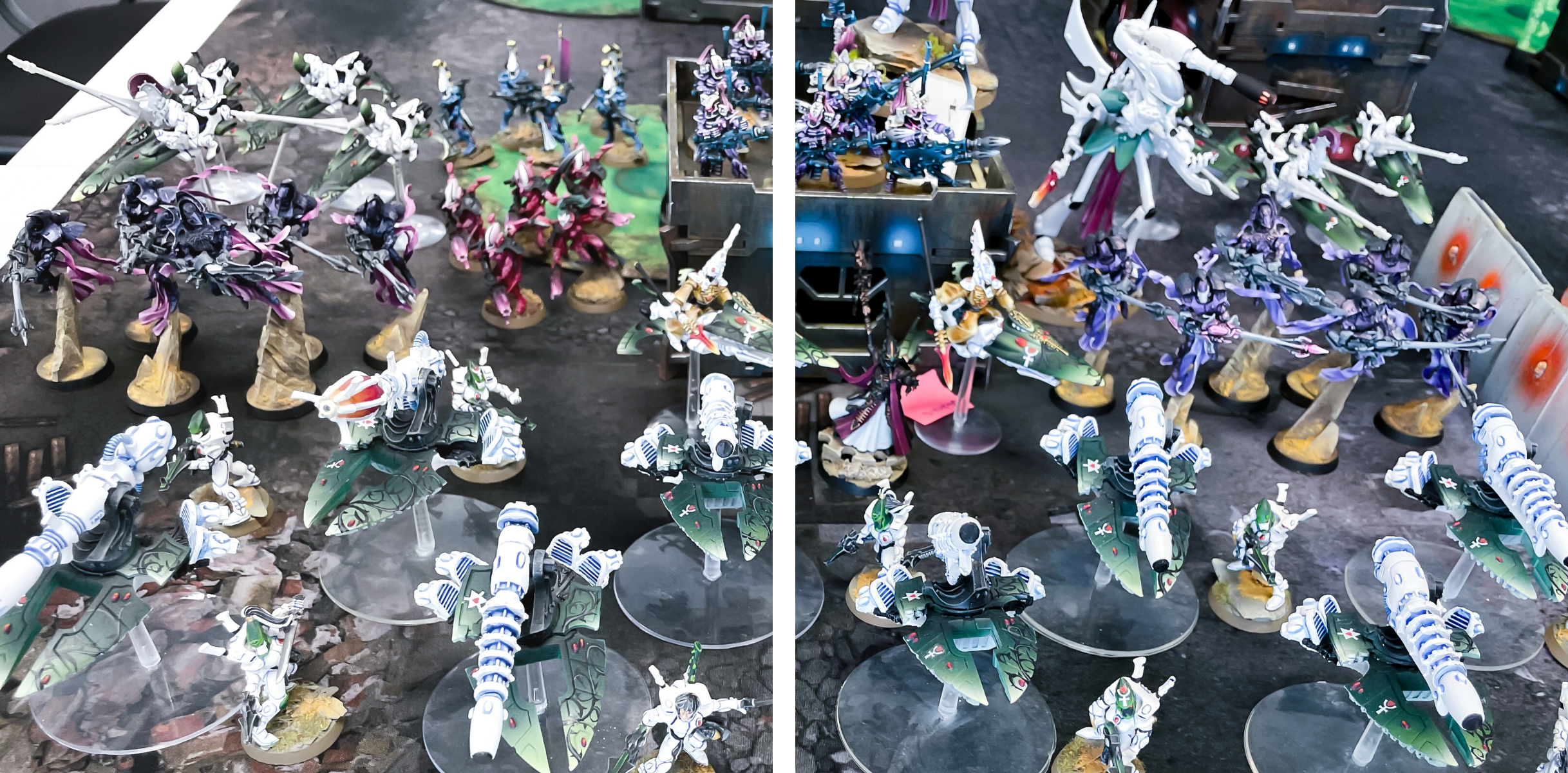 Insgesamt gab es eine überraschende Vielfalt an Armeen – wir haben für euch die Fraktionen und ihre Winrates grafisch aufbereitet:

Wir möchten uns außerdem herzlich für die guten Bewertungen und euer wertvolles Feedback bedanken.
Das durchweg einheitliche Design wurde gelobt, ebenso wie die Handouts mit Geländeregeln für jeden Tisch. Einige von euch hatten sich im Vorfeld bezüglich der Geländesituation auf den Tischen gemeldet. Dadurch haben wir mehr Gelände aufgestellt, was positiv aufgenommen wurde. Wir wissen, dass wir hier noch nachrüsten müssen, und werden gern eure Anregungen für das nächste Turnier berücksichtigen.
Die Kritik zu unserem Scoring-System ist angekommen und wird für die nächsten Turniere verbessert.
Wir bedanken uns für eure Teilnahme und hoffen, euch bald bei einem der kommenden Turniere wiederzusehen – vielleicht ist in unserem Eventkalender etwas für euch dabei?
Wir sehen uns am Spieltisch!